The Governance Action Hub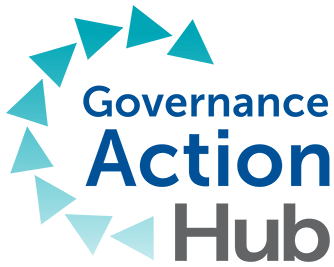 Supporting local action by strengthening local and global coalitions to improve governance and reduce corruption in resource-rich countries, while contributing to their sustainability.
"The Governance Action Hub exists to collaboratively explore and expand the frontiers of what is possible in governance reform."

-Dr. Mario Picon, Director, Governance Action Hub
The Challenge
For the international development community, the importance of addressing the governance challenges of resource-rich countries, in the face of the energy transition, cannot be overstated, considering that if current trends hold, 50% of the poor in the world will live in resource-rich countries by 2030, up from 20% of the poor in 1990.
Due to global and local demand, non-renewable natural resources, from coal to oil and minerals to gas, represent an opportunity to improve the living conditions of people, by supporting development and growth.
Yet, that same resource wealth is seen as a curse. In too many cases, resource-rich countries are characterized by fragility, conflict, endemic corruption and state capture, with poverty widespread. The correlation between resource wealth, poor governance and high levels of corruption has been widely documented and much has been written about the consequences of this relationship for growth and poverty, as well as health, education, and nutrition outcomes.
Climate change represents an additional challenge for countries with economies dependent on non-renewables. However, energy transition processes also face obstacles due to poor governance and state capture by elite vested interests. A focus on a Just Transition is needed in producer countries, particularly among oil and gas producers, which cannot be expected to remain heavily reliant on fossil fuel extraction. Such Just Transition will need to be sustainable and inclusive, addressing the negative impact on communities dependent on hydrocarbons or other industries damaging the environment and providing incentives for the rise of renewables and other cleaner industries.
Tackling these challenges will require engagement between government, private sector, and citizens. However, local stakeholders in resource-rich countries engaged by Results for Development over the last few years consistently note how social contracts in resource-rich areas are fragmented, as reflected in low levels of trust overall and low confidence in the possibility of change. In such environments, efforts to promote dialogue are thwarted by a sense that participation is transactional and often used by companies and governments to simply access local resources; corruption and poor governance have in many ways been normalized; and a cycle of persistently low social and economic outcomes is created.
In this context, initiatives to improve governance in resource-rich countries and beyond have been focused on enhancing transparency, accountability, or participation, mainly through technical solutions, and often with limited attention to local dynamics. The subnational level has been particularly overlooked.
We believe that to confront these governance challenges, local and global actors need to find better ways to collaborate. An environment is needed in which citizens, government and the private sector can work in coalitions, identify common goals, and explore new ways forward while respecting differences in perspectives and building trust for improved development outcomes. Such an environment will result in overall better governance systems.
The Governance Action Hub has been established to explore and expand the frontiers of what is possible in governance reforms through the strengthening and sustainability of coalitions for change around natural resources.
The Opportunity
Over the last few years, as part of the Leveraging Transparency to Reduce Corruption (LTRC) initiative, R4D and The Brookings Institution led a series of activities to explore the future of natural resource governance (#futureofNRG).
First, and together with the Natural Resource Governance Institute (NRGI) and the Transparency and Accountability Initiative (TAI), LTRC organized an expert dialogue that proposed concrete priorities for the field. Among these, there were calls for building broader coalitions for change and improving the coordination between local level action and the global initiatives and organizations that can support them and spur accountability.
A global survey was subsequently launched to gauge the views, expectations and priorities of people either working on governance in resource-rich countries, or in other topics impacted by it (such as environmental protection, human rights, or corporate investment). The survey showed a clear gap between the governance reform priorities identified by respondents and the expectation of those reforms being implemented.
In their analysis, the authors argue that this common "reform pessimism" translates into an overly cautious and unambitious approach to reform when, in reality, what is needed is more audacity and bold new approaches.
In this push for more audacity, we recognize the need to identify and build complementarities between different fields, and between diverse types of stakeholders. In resource-rich and non-resource-rich settings alike, we see a knowledge gap on how to build effective coalitions for systems-wide change, particularly at the local, sub-national level.
This is the gap the Governance Action Hub fills.
Our Work
Our learnings and engagement with partners over the last few years have shaped the purpose of the Governance Action Hub. We envision actors with different agendas, being from civil society, the private sector, or the state, working together despite their differences and despite complex and persistent governance challenges from local development processes to the energy transition.
We pursue this at both the country and global levels.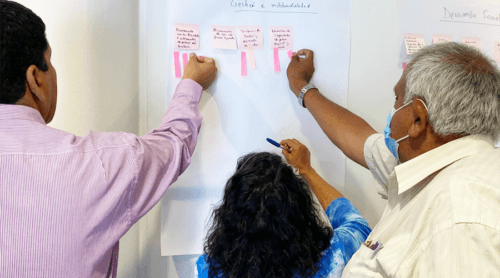 At the country level, the Governance Action Hub facilitates local action around common goals and challenges. We broaden the reach of existing or recent dialogue processes and collaborative platforms. We promote inclusion and support the elevation of those voices and perspectives in the design, and their engagement in the implementation of policies and interventions. The Action Hub prioritizes work at the subnational level in the countries where it works.
We also support solutions proposed by local stakeholders to generate demonstration effects that can be then adapted or scaled up, and foster coordination between national and international partners for radical collaboration and impact.
At the global level, the Action Hub aims to progressively build a global community that promotes exchange and cross-learning between and among local and global level actors, leveraging new voices and connecting actors with different perspectives and experiences.
Our Focus
Areas of focus for the Action Hub are defined through engagement with local stakeholders to understand their needs and priorities, with close consideration of context and local systems. We believe that what drives success of collaborative approaches is:
Identification of common, concrete, time-bound interests and objectives,
Co-creation process of solutions to common challenges associated to those goals, and
Showing results, particularly quick wins that build trust in the process among participating and non-participating actors, consolidating local ownership and agency.
Examples of themes we will be exploring under the Action Hub are:
Implementation of regional development plans;
Better use of extractives revenue for better health, education, and nutrition outcomes; and
Securing pathways to a just energy transition at the local level.
Our Approach
We approach governance as a system. This requires acknowledging, when discussing reforms, the coexistence of formal institutions, social norms, politics, and a plurality of perceptions and aspirations of local stakeholders. We use system and co-creation approaches to understand context; collective intelligence to actively engage and draw on a plurality of stakeholder perspectives; and development entrepreneurship approaches to incentivize ownership and support agency.
We seek to support an environment for local agents to generate context-relevant ideas while connecting those ideas and innovators with the governance and anti-corruption global community.
R4D's role in this program is that of a broker. This involves:
Support for country-led change. Change agents know that spearheading systemic change is an inherently political process — to be successful, it must be responsive to local challenges and priorities, it must include diverse stakeholder input and innovations must be tested in an iterative way. Our role is to support local actors with the resources and knowledge they need. By doing this, we support the emergence of local coalitions for change with enhanced knowledge and capabilities.
Share knowledge and expertise. Local change agents want to access global experts and models of what seems to be working in similar contexts to theirs. We also know that research and evidence in this field can be strengthened through action learning across different contexts. The potential for two-way, horizontal learning through our approach is considerable. Our role is to support the creation and exchange of practical knowledge about how to improve systems, while also supporting practitioners to apply what they learn.
What do we mean by using a systems lens?
To align analysis, decision-making, and management with how complex and adaptive systems behave. It implies:
A holistic perspective, while keeping concrete, actionable goals in focus.
Understanding the key relationships shaping how individuals and organizations interact.
Accepting uncertainty and complexity, working in adaptive, flexible ways.
Recognizing that different people have legitimately different perspectives.
Awareness of the resilience and adaptability of systems.
Working in interdisciplinary and cross-sectoral ways.
Our Assumptions
Coalitions can navigate plausible pathways to change while also building democratic resilience and trust in the process,
Solutions cannot be pre-defined and require exploration and testing to assess plausible pathways,
Solutions require local leadership but can be supported by external actors, and
Sustainability and scale are possible through active efforts to anchor solutions in local systems.
Our Strategy
We aspire to foster a virtuous circle of improved governance (including better control of corruption and state capture), more trust & collaboration between actors at various levels, and better development outcomes. To do this, our strategy in each country or for each problem tackled will be tailored to context, risks, opportunities, and local priorities, but with a focus in concrete action. Our projects will reflect a mix of the following interrelated functions:
Collaboratively creating or strengthening existing participatory spaces and networks that promote and sustain local coalitions for change.
Supporting local action to tackle concrete challenges by brokering existing knowledge and networks so local actors can adapt their goals.
Encouraging exploration and testing of solutions proposed by local participants to the challenges they identified.
Finding ways to anchor innovations in local systems for sustainability and local ownership.
Making connections and fostering complementarity between local and global actors for impact, sustainability, and cross-learning.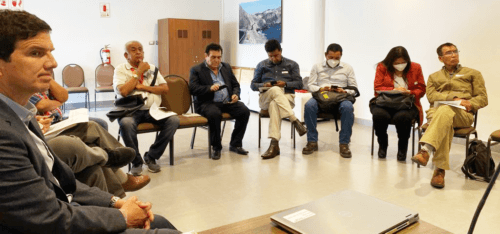 A Global Learning Journey
Many organizations at country and global levels are experimenting with bold, novel approaches to collective action, but the opportunities to learn from each other and join forces remain elusive. The Governance Action Hub global community will crowd in those calling attention to emerging insights and informing a new generation of efforts to foster governance reform through collective action. We hope to find other individuals and institutions who are willing to contribute their action-research so that we can all learn through a series of local level pilots about how systems change happens across contexts.
This global community will also support cross-learning between and about our country projects over time. We hope you will join us on our journey, sharing innovations with a broad community. We do not claim to have all the answers, or the perfect plan for this platform. We want to build it together with you, so it responds to the needs of those fighting for better governance, less corruption, and better development outcomes.
Frequently Asked Questions
If you have any questions, please feel free to submit them to us at GovActionHub@r4d.org.