Our strong programmatic results have led to sustained growth over our 15-year history.
Our revenues were $44M in 2021 (audited financials appear below) and $48M in 2022 (preliminary). We project revenues to exceed $53M in 2023.
We have a diverse mix of funders — foundations, government donors, and UN agencies. They trust us to get results, and many fund our work year after year. One way we add value is by connecting complementary initiatives and funders so they can work together to achieve large-scale, sustained impact.
This diverse mix of funders, with varied financial rules, can make it difficult for us to fully recover our costs, let alone make new investments that enable connections across programs. To achieve the vision outlined in our current strategic plan, we are seeking to raise significant flexible funds to complement our current project-oriented funding. If you would like to provide flexible support to R4D and make a difference in the lives of millions of people, donate to R4D today.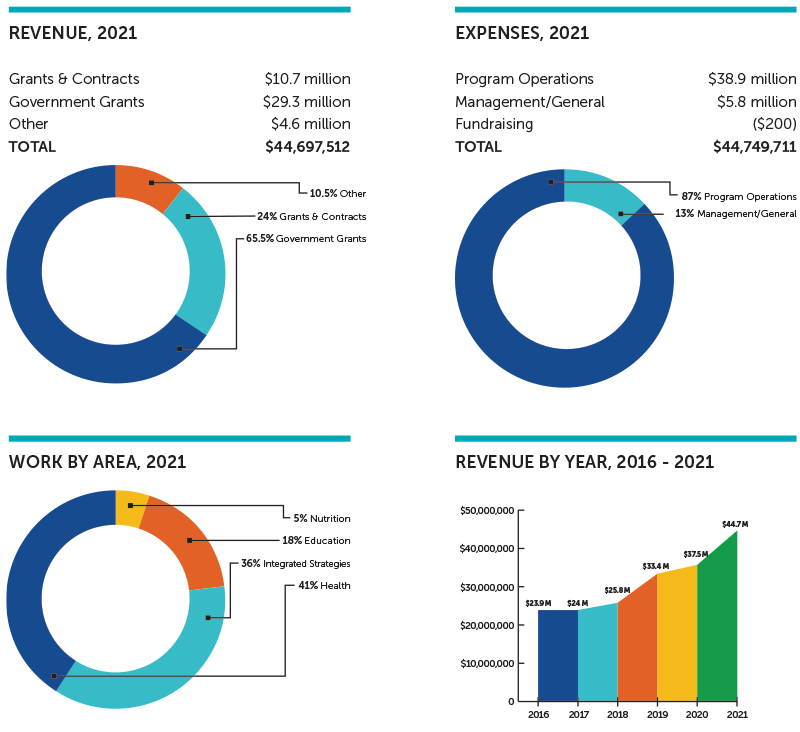 Financial Statement for Fiscal Year 2021
| | |
| --- | --- |
| FY21 | |
| | |
| ASSETS | |
| Cash and cash equivalents | $3,201,496 |
| Investments | $3,964,346 |
| Grants and contracts receivable | $7,578,228 |
| Prepaid expenses | $79,875 |
| Property and equipment, net | $1,935,504 |
| TOTAL ASSETS | $16,759,449 |
|   | |
| LIABILITIES AND NET ASSETS | |
| Liabilities | |
| Accounts payable and accrued expenses | $1,369,495 |
| Accrued payroll | $728,153 |
| Grants payable | $2,291,226 |
| Deferred revenue | $6,215,824 |
| Deferred rent | $2,483,258 |
| TOTAL LIABILITIES | $13,087,956 |
| | |
| Net Assets | |
| Unrestricted (deficit) | ($2,289,215) |
| Temporarily restricted | $5,960,493 |
| TOTAL NET ASSETS | $3,671,493 |
| | |
| TOTAL LIABILITIES AND NET ASSETS | $16,759,449 |