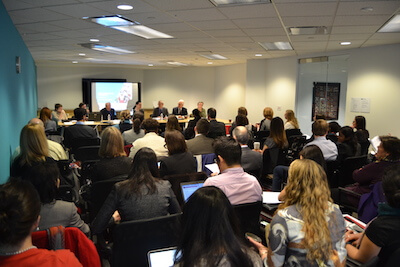 On Monday, February 9, R4D hosted a lively panel discussion on Gavi's experience supporting countries that are "graduating" from Gavi and will be transitioning away from Gavi assistance for life-saving vaccines and immunization programs. The audience of roughly 50, including representatives from the Gates Foundation, NIH, USAID, CGD, the World Bank, and others, posed a number of questions related to the future of graduation — or transition — by low- and middle-income countries from external development aid. David de Ferranti moderated the discussion.
The panel, composed of CSIS's Steve Morrison, Gavi's Rob Newman, former Georgia Deputy Health Minister Mariam Jashi, and R4D's Rob Hecht, addressed issues ranging from the lessons learned by Gavi through its experience with country transitions thus far, to the continuation of access to affordable pricing of vaccines by "graduated" countries and its importance for countries' fiscal space to self-finance immunization programs, to Gavi's role among countries and other donors in the broader health space, especially related to issues such as health systems and possible concurrent donor pull-out. As Rob Newman noted, "The issue is not just vaccine financing, but countries transitioning away from other types of support, whether bilateral or multilateral. It's important not to think about Gavi support in a vacuum, but what it means for the bigger picture in low- and middle-income countries."
The debate was framed by a  report  published jointly by R4D, Gavi and the WHO in 2014 in the journal Health Policy and Planning. Report authors Santiago Cornejo of Gavi and R4D consultant Helen Saxenian presented the findings from the report as background to the panel discussion.
Rob Hecht rounded out the conversation with a provocative look toward the future of transitions: "It's time for a more systematic approach to coordination around transitions — and countries have the opportunity to take control by bringing Gavi, the Global Fund, PEPFAR, and other funders to the table. It's not something that can only be coordinated by the funders themselves."