Economics, Financing and HIV: Reflections from the 2016 International AIDS Economics Network Preconference
By Steven Forsythe, Cathy Barker and Michael Chaitkin
Last month's International AIDS Economics Network (IAEN) Preconference in Durban (July 15-16, 2016) demonstrated the strong political will to prioritize financing and harness economics to sustain the global HIV response and end AIDS. The agenda and presentations can be found here and here.
What a long way we have come since we first met in Durban 16 years ago. With high-level participation by ministers of health from Lesotho, Namibia, Botswana, Uganda, and Zimbabwe, along with the heads of UNAIDS and PEPFAR and experts from the CDC and the World Bank, this gathering demonstrated the strong political will to prioritize financing and economics to sustain the global HIV/AIDS response and to end the AIDS pandemic.  At the policy level, a high-level panel discussed how evidence generated by economists can help facilitate engagement between the ministries of health and treasury and with civil society to keep health and HIV as a top priority in many countries. They also reminded us that investment cases should be made alongside human rights cases. These messages were echoed throughout the main conference.
Excitingly, the face of HIV economics has changed. The 1st IAEN Preconference in 2000 was a showcase mainly for economists from the US and Europe. Thanks in large part to support from the Bill & Melinda Gates Foundation, young researchers from low- and middle-income countries made most of this year's presentations.
Our community's focus has also changed in other promising ways (see the table below). In 2000 health economists were just starting to explain why it makes economic sense to introduce antiretroviral (ARV) drugs into low-resource settings, and responsibility for financing HIV programs was seen to lie squarely in the hands of rich countries. In contrast, today we channel our energy to sustaining the response and striving toward the 90-90-90 targets as efficiently as possible. Critically, we are supporting countries to mobilize ever more domestic resources and take ownership of their national programs.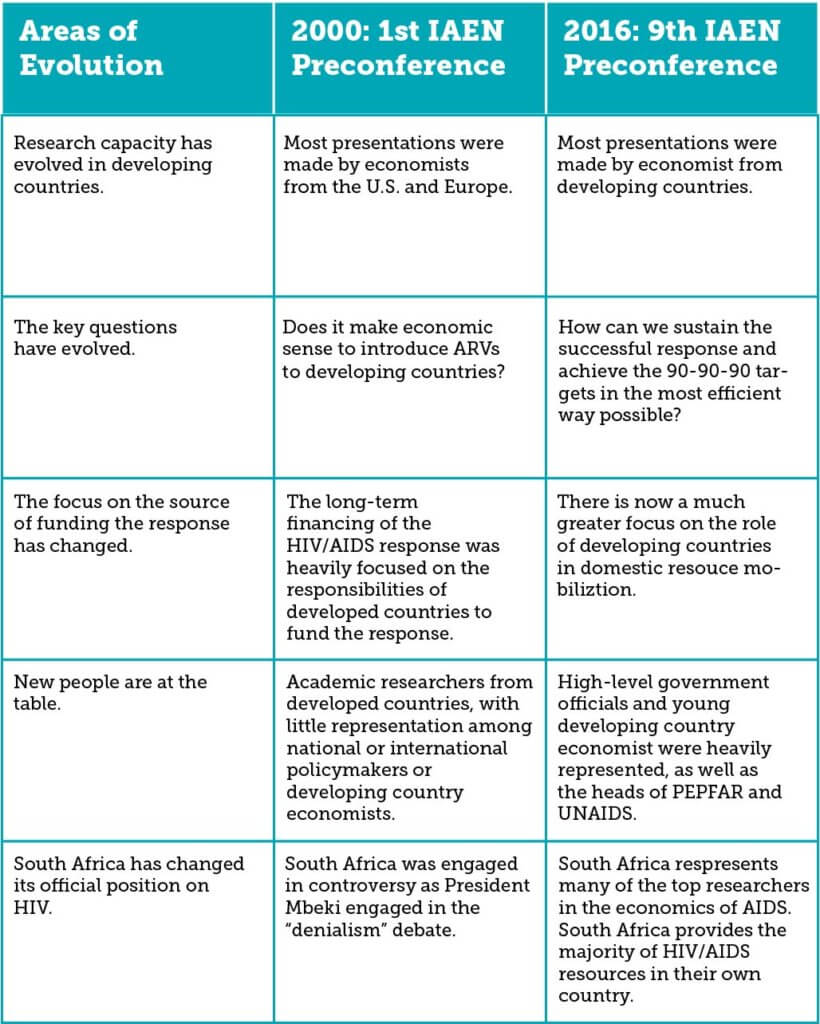 A challenging funding environment and some concerning trends
South Africa and other countries have taken tremendous strides, but concerns about financing abound. During her keynote address, Ambassador Deborah Birx, the US Global AIDS Coordinator, starkly remarked that "flat funding is the new increase." Echoed by others throughout the meeting, the Ambassador noted the worrying downward trend in overall donor funding for HIV/AIDS (between 2014 and 2015, international donor funding for HIV/AIDS dropped from $8.6 to $7.5 billion).  At the same time, new infections among adults are not decreasing. Despite the massive decline of mother-to-child transmissions, stagnant incidence rates among adults are particularly concerning when coupled with large projected increases in the adolescent and adult populations over the
With flat funding to confront this enduring challenge, PEPFAR is partnering with countries to improve the collection and use of data to better target investments at populations and geographies most in need, and to improve efficiency in the delivery of HIV/AIDS services.
South Africa as exemplar and reality check
No country embodies progress more than South Africa, where then-president Thabo Mbeki's AIDS denialism hindered an effective response at the turn of the century. This year, the host country celebrated its robust efforts to combat AIDS, underpinned by a massive domestic investment in prevention, care, and treatment, and bolstered by many of the world's top HIV researchers.
South Africa's HIV and TB Investment Case — presented by HE2RO's Gesine Meyer-Rath — has helped the country optimize investments in the world's largest HIV program. Surprisingly, South Africa was already allocating its resources in a generally optimal way, as revealed in presentations by Meyer-Rath, Teresa Guthrie and colleagues from the Investment Case team, which showed consolidated mapping of HIV spending by the government, PEPFAR and the Global Fund.
This analysis has implications for the overall global HIV response. Costs are not likely to continue declining in the future, and the global community should therefore not be overly optimistic and assert that HIV elimination is "just around the corner" when significant barriers exist to achieving HIV targets by 2020.
New, more-holistic methodology makes a stronger economic case for investing in HIV
Efficiency gains will be essential to achieving 90-90-90, but so will finding new and creative ways to make the case for investing in health and HIV. One of the more technical and interesting presentations at IAEN came from UNAIDS, focusing on the "full income approach." This methodology has been used by Dean Jamison and colleagues in their Global Health 2035 work for the Lancet Commission on Investing in Health and is being used by UNAIDS in its assessment of the costs and benefits of "fast track." This approach attempts to assess not only the benefits of health interventions in terms of changes in GDP or losses in productivity, but also incorporates the value that individuals place on better health and longer life expectancy. While the full income approach remains in its infancy, it represents an opportunity for economists to more comprehensively value the benefits of improved health.
More work to be done
In response to funding and other challenges in scaling up the response, presentations at the IAEN preconference included analyses of HIV costs, health and economic impacts of investing in HIV to make the case for increased investment, innovative and sustainable HIV financing models, and other critical issues, such as data capture systems and donor funding transition planning. Yet much hard work remains, including better understanding of:
How HIV unit costs change. Three countries  (Tanzania, Uganda, and Zambia) presented their work in developing an HIV unit cost database. More is understood about the cost of HIV/AIDS interventions, but relatively little about what steps we can take to drive them down further.
How to increase the efficiency of treatment and other HIV services. Despite consensus that increasing technical efficiency is essential to sustaining the response, efficiency studies remain in their infancy (see examples on treatment here and prevention here). We also need to study further how spending above the point of service delivery (e.g., on program management, M&E, training, and more) affects quality and efficiency.
How HIV/AIDS fits into government-financed health insurance schemes. We are just beginning to unpack the feasibility and desirability of integration, and it's still unclear what new financing models will emerge and whether they can address the HIV funding gap. This issue will only increase in importance given intensified attention to universal health coverage as part of the Sustainable Development Goals.
How governments and their development partners can best manage the phase-out of external funds and technical support. The IAEN meeting attracted unprecedented high-level participation, including five African ministers of health and the heads of UNAIDS and PEPFAR. We can support, evaluate, and facilitate these transition processes, particularly given the need for multifaceted approaches to sustainable financing, including domestic resource mobilization, efficiency gains, and innovative financing.
A new cadre of committed experts
The IAEN has greatly evolved from its beginnings in 1993, and our community is more poised than ever to help tackle these daunting challenges. The network's membership has grown to 6,700 people, most of whom are from low- and middle-income countries. Stellar research from places like Muhimbili University in Tanzania, Chancellor College in Malawi, and Makerere University in Uganda indicates how much has been achieved at building capacity at the epidemic's front lines to address the economic impact of AIDS and the costs of sustaining the response.
The IAEN meeting was co-organized with UNAIDS and was hosted by HEARD at the University of KwaZulu-Natal. The meeting itself was funded with generous support from The Bill and Melinda Gates Foundation, The World Bank, UNAIDS, Avenir Health and the Rush Foundation.
About the authors: Steven Forsythe, Ph.D. is co-founder and president of the International AIDS and Economics Network (IAEN), the deputy director of economics and costing at Avenir Health, and the technical lead for costing on Health Policy Plus. Cathy Barker is a senior associate for health at Palladium and a member of the health financing team on Health Policy Plus. Michael Chaitkin is a program officer and health financing specialist at Results for Development (R4D).