5 years later: Does R4D's education strategy pass the test of time?
Five years ago, R4D's education practice was five years old, and we set out to articulate how our team could best support stronger education systems. Our starting point for the strategy was to ask our partners — government officials, civil society, researchers, social entrepreneurs and donors — two simple questions: what are the biggest challenges you are facing and how might R4D help you respond to those challenges?
Based on this input, and building off our team's work to date, we crafted a strategy that was, in many ways, a hypothesis. It was a hypothesis that three core methods, especially when combined, would fill gaps in the field and lead to outsized impact by a small team committed to working strategically with partners.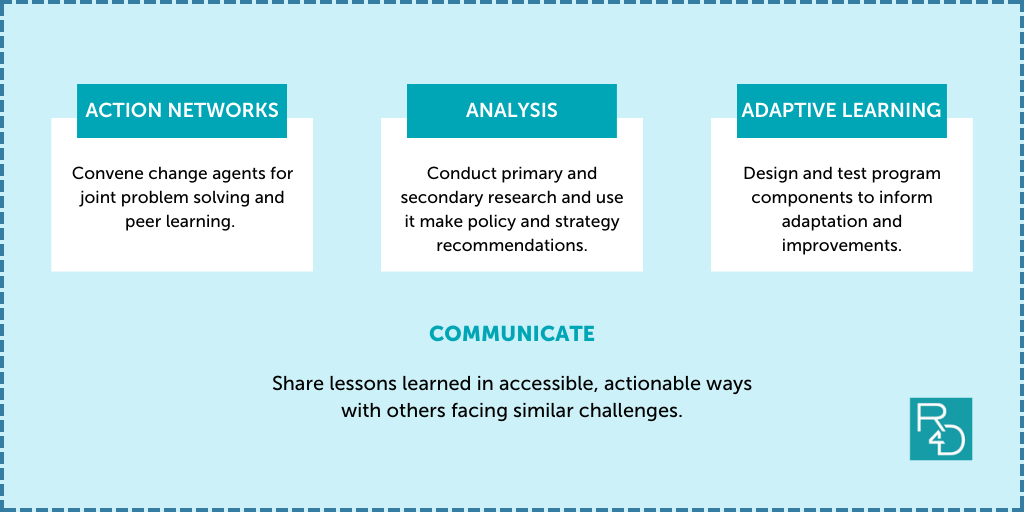 As we approach the fifth anniversary of our strategy, we find ourselves wanting to revisit that hypothesis. There are three big lessons we've learned:
Lesson 1: It is clear that our strategy has generated impact
We're thrilled with the number of action networks, analytical pieces, or adaptive learning projects where we feel we were able to meaningfully improve evidence-based decision making.
At the country level, we partnered with USAID, Mathematica Policy Research, and Chemonics to improve the Lecture Pour Tous early grade reading program. We worked with the implementing team to identify key learning questions that needed to be answered to aid upcoming decisions, and then designed a mixed-methods approach  to answer them: through systematic user testing, rapid randomized controlled trials, and extensive qualitative research, we tested three teacher coaching models — the existing coaching model, tele-coaching, and supplemental in-person coaching — and our findings informed the Ministry of Education's decisions on how to improve and scale the program.
At the global level, we partnered with Universalia to co-lead over 20 summative country evaluations of the GPE model. Recommendations from these evaluations contributed to changes in the capacity strengthening, financing, and accountability approaches for GPE, the world's largest global fund solely dedicated to transforming education in lower-income countries.
Lesson 2: We believe more integrated approaches are needed to deepen our impact
But even as we celebrate these impacts, we recognize that, for many of our projects, we're still chasing the dream of combining our three approaches in service of longer-term, more systemic change.
For example, we led the design and delivery of the Project Literacy community of practice, which included over 100 literacy practitioners, researchers, and funders. We facilitated this amazing group of diverse experts from all over the world to create a series of practical, publicly available tools that addressed common challenges they had identified. The tools range from frameworks to support the evaluation of literacy programs to an inventory of tools for adapting literacy curricula to local contexts. This was, without a doubt, impactful work for the members of the community of practice and for the global literacy community more broadly. But what if….
We could offer hands-on adaptive learning support to literacy organizations as they used these tools to strengthen their programming?
We had resources to support this community indefinitely, so we could link peers who can learn from each other by making specific, brokered connections focused on areas of technical improvement?
We could produce and disseminate new evidence-based analysis and good practice that aligned with authentic needs as they emerge over time?
We could integrate government officials leading literacy efforts into this community, so that government and non-government partners build shared language and frameworks for literacy interventions?
One of the reasons why we are so diligently sticking-to our goal of mixing our methods is that it has shown such promise when we have been able to make it happen: For example, through our work on EdTech Hub, our research partners are generating new evidence through a portfolio of 14 primary research studies, while other teammates provide technical assistance to ministries of education and aid agencies, and others still help iteratively improve EdTech interventions prior to scale-up.
Examples such as this one when we have been able to combine our methods have been long-term, multi-project, multi-donor programs. And we don't think this is a coincidence. It is through this sort of model where we often find ourselves with the time, resources, and diversity in donor priorities that allows us to build partnerships and craft programs that collectively enable more systemic impact.
Lesson 3: Partners, partners, partners
Our strategy's focus on education change agents as the primary audience for our work has led to an enormous increase in the number of partnerships we have with individuals and organizations in our focus countries, and even more importantly, an increase in the depth of those collaborations.
Prior to the launch of our strategy five years ago, much of our work had been focused on either supporting global institutions to make evidence-informed choices or developing new global public goods. This led to pioneering research like the development of new models to estimate the economic costs of large out-of-school populations and new resources like a first-of-its kind database to catalogue global education innovations. However, a smaller proportion of our work was done in direct support to governments or with other country change agents. We recognized that, in order to affect change on the system level, we needed to invest in our capacity and expertise supporting at the national and sub-national level.
While we continue to collaborate with global institutions, we are increasingly supporting national and sub-national actors to make key decisions. For example, we supported Tanzanian civil society organizations in the ECD space to strengthen their monitoring and evaluation approaches and school leaders in Sierra Leone to improve literacy scores.
Through EdTech Hub, we launched a dedicated Helpdesk that provides evidence-based advice to national-level decision makers about how education technology is used. The Helpdesk is able to deliver rapid-turnaround advice because of the Specialist Network we've built — a group of over 40 experts from countries around the world who bring a diverse set of experience and country-level contextual expertise that would have been impossible to achieve with our own staff alone. The Helpdesk has responded to over 115 requests in more than 50 countries, in the process helping national leaders to respond to timely questions on topics diverse as how to use EdTech to support girls to how countries can use EdTech to mitigate learning loss during covid closures.
Where to next?
The past five years have left us confident that the fundamentals of our strategy are a recipe for success. The strategy commits us to intentionally ambitious and difficult work and we are committed to pursuing more long-term, systems level engagements and looking for opportunities to combine our methods.
We are also eager to apply our strategy in response to the evolving priorities of country leaders. Ongoing conversations with these change agents highlight the importance of post-covid transformation, balancing foundational literacy and numeracy with other potential areas of focus, ensuring gender parity, and personalizing learning experiences for all.
Finally, we're keen to find new ways to measure the impact of our work — and to help others engaged in similar work do the same. This may mean contributing to efforts to measure education systems strengthening improvements — no small feat given how complex systems and systems change can be.  Or it could mean creating frameworks that allow us to better assess the impact of our learning communities.
Five years from now, we want to look back and say that we not only contributed to stronger education systems by working alongside country-level education leaders, but that we are able to systematically measure that change and articulate the pathways that helped it happen. Here's to another five years!
Photo © Results for Development/Michael Duff