Improving maternal and newborn health services through strategic purchasing
Lessons from Indonesia
Maternal and newborn health services are changing in Indonesia. Under Jaminan Kesehatan Nasional (JKN), the national health insurance program, mothers and newborns are now guaranteed to receive more and higher quality antenatal care, delivery, and postnatal care services. The Government of Indonesia, with support from USAID's Health Financing Activity (HFA), commissioned a new strategic health purchasing (SHP) initiative to catalyze the implementation of this new package and ensure quality and efficiency in service delivery.
"Strengthening quality assurance is one of the keys to strategic health purchasing for maternal and newborn health…ensuring the quality of these services will have an impact on improving services for pregnant women and childbirth which are part of the Minimum Service Standards in the health sector that must be achieved by local governments."—Dr. Yuli Farianti, Head of the Center of Health Financing and Decentralization Policy at the Ministry of Health, Indonesia, Strategic Health Purchasing Pilot Launch in Serang, September 19, 2022
This new initiative, referred to as the Strategic Health Purchasing Pilot for Maternal and Newborn Health Services (or the pilot), comes in response to two main challenges: unpredictable quality of maternal and newborn health care and financial inefficiencies within JKN. In Indonesia, payments for Maternal and Newborn Health services currently depend on the quantity, not quality, of care provided. There are also multiple other inefficiencies in how the services are accessed, provided, or reimbursed. The pilot utilizes a novel health purchasing approach that targets the way that Badan Penyelenggara Jaminan Sosial–Kesehatan (BPJSk), the social health insurance administration, pays for or "purchases" the health services from public and private providers and improves the quality of health care for pregnant women, new mothers, and newborns.
What does this pilot change?
Well, a lot (see graph below). For starters, it uses an expanded package of health services through the Ministry of Health that includes more antenatal and postnatal visits, mandates attendance of additional skilled personnel at birth, and increases access to antenatal screening tests such as ultrasounds and triple-elimination testing for HIV, syphilis, and hepatitis B. This expansion not only increases and diversifies health services for mothers and their newborns, but also proactively monitors the risk of pregnancy complications.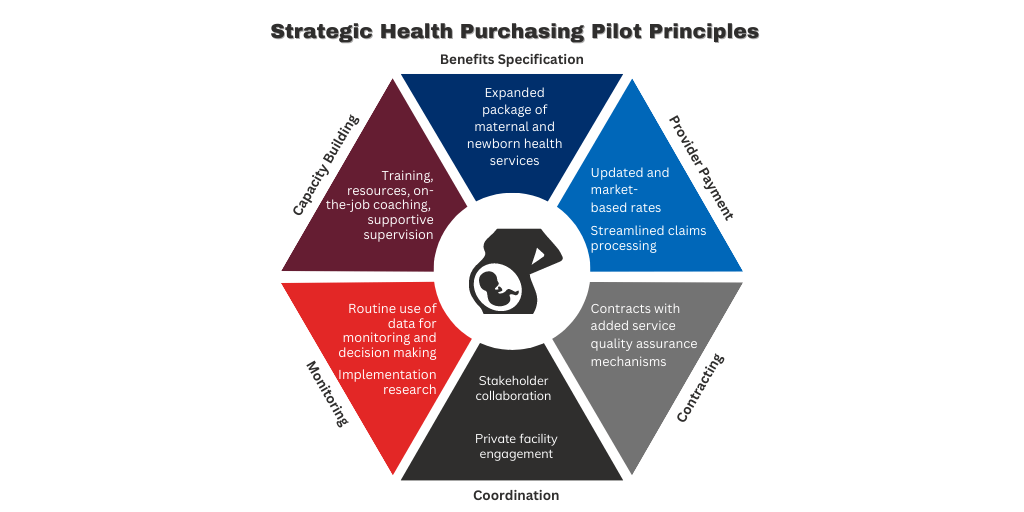 The pilot uses a new higher and market-based provider payment rate (tariff), streamlines the service reimbursement processes, and better tracks quality standards in submitted claims. Expanded contracts between BPJSK and facilities have been applied and are now better aligned with quality-of-care expectations. The pilot also focuses on capacity-building and resource availability (technical and infrastructure) for service providers, positioning them for successful implementation of this new endeavor. A new network coordinator position has been created to provide individualized support to providers and monitor pilot implementation on a daily basis. Unlike other facilities in the districts, the facilities participating in the SHP pilot are better equipped to provide this expanded set of services, have the necessary training to manage clinical and administrative tasks, have dedicated staff, and routine and accessible feedback mechanisms to ensure a successful roll-out of the new package.
Additional quality indicators were added to health information systems, and routine reporting, monitoring, support, discussion, and problem-solving practices are being institutionalized to ensure that the pilot achieves its main objective: higher quality of care for pregnant women and their newborns.
The most important of all, the pilot promotes active engagement and coordination among policymakers, purchasers, and providers to effectively monitor and support service delivery. Such explicit focus on quality of care and extensive engagement of multiple actors will promote accessibility, continuity, and comprehensiveness of maternal and newborn services in the districts. The health-seeking experience for pregnant women, new moms, and their newborns will be smoother, more pleasant, and more responsive to their needs.
Impact on maternal and newborn services
The government launched the pilot in October 2022, and R4D is now supporting government officials to test the effectiveness and impact of the innovative purchasing model on maternal and newborn health services.
It is evaluated through implementation research to inform government decisions about scale-up. But the systems-level effect of the pilot is already evident; for example, the Ministry of Health has adopted the tariff and payment scheme through an official regulation in 2023, and the social health insurance administration is scaling up indicators that focus on the quality of care nationwide.
Additionally, district-level stakeholders are starting to implement collective quality monitoring approaches with more facilities in Kota and Kabupaten Serang.
What can we learn from this pilot?
Big changes are indeed happening in maternal and newborn health services in Indonesia, and, as anyone who has worked on a public program of this scale will attest, such big changes can be technically and politically difficult to implement.
Below, we've highlighted three main lessons from the process which, we believe, led to the successful launch the pilot and has set it up for a lasting impact:
1. Co-creation with local stakeholders has grounded the design in local realities and was fundamental to promoting local ownership of this pilot. It took multiple years of co-creation with the Ministry of Health, BPJSk, subnational District Health Offices (DHOs), and technical experts to transform the first draft of the pilot design — which was mainly based on global best practices — into a context-specific model that reflected local health priorities and leveraged existing policies and governance structures. This approach prompted additional investments in the pilot from national and subnational stakeholders and solidified government commitment and ownership of the initiative.
"There are three things from SHP MNH implementation that we find very useful and cannot be found in other projects. First, SHP MNH brings us together with BPJSk to review issues and find solutions. This is a rare opportunity, and we are pleased that SHP MNH facilitates it. Second, this is the first time we have sat intensively with private clinics. Private clinics are able to inform us directly about the issues they face, and the DHO assists and informs them about how they can improve. Lastly, we have been facilitated in communicating with the Ministry of Health (central level), giving us hope that regulations will change based on the lessons learned from SHP MNH to support the improvement of maternal health service quality improvement."—Andah Suryaningsih, sub-coordinator of quality and accreditation, District Health Office, Kabupaten Serang
2. Collaboration and established partnership protocols among national and subnational health agencies built a strong foundation for scale-up. The pilot components require different government actors to coordinate, collaborate, and work towards improving quality of care for mothers and their newborns. The USAID HFA project team provided extensive facilitation to the design phase, supporting both technical and political discussions that entailed a lot of one-on-one and group work to build consensus and align priorities of different government agencies. This multi-level partnership between national and subnational government was institutionalized through the signing of a memorandum of understanding between the parties and distribution of a circular letter to formalize the pilot sub-nationally. Consistently bringing together actors from multiple levels of government was intensive, but the fruit of this labor was certainly worth the effort; it allowed the changes enacted by the pilot to be fully validated with DHOs and other stakeholders and ensured the pilot is anchored in existing policymaking capacities.
3. Placing local voices in the lead improves pilot performance and leaves a lasting impact. System-level changes, like a provider payment reform, demand excellence and expertise in stewarding the implementation of their components. USAID HFA consists of a team of Indonesian experts in Maternal and Newborn Health, health economics, and health policy that bring intimate knowledge of the history and context of the field, as well as the needs of the communities the pilot will affect. USAID HFA is leveraging this invaluable perspective by ensuring that every provider has the skills and guidance they need to care for patients per new standards and respond to the incentives and administrative requirements of the updated payment models. The network coordinators, who are resident midwives in pilot facilities, attest to improved capacities in "…compliance to service standards, monitoring and governance to ensure that health workers are providing quality services" (Network Coordinator/Midwife at a Puskesmas, Kota Serang; December 2022 monthly monitoring visit).
USAID HFA's focus on co-creation and system alignment has created strategic health purchasing capacity within the Government of Indonesia that will remain long after the life of this small pilot.
Commitment to co-creation and systems-alignment can have trade-offs. The USAID HFA technical team has had to adjust some components of the original design to accommodate political realities. But the result has outweighed the cost: The pilot is now embedded in the existing policies, builds systems capacities, is managed by government stakeholders, and is well positioned for scale-up.
With a long-term goal of securing the well-being of women and children across the nation, the strategic health purchasing pilot represents a significant step forward in establishing Indonesia as a global example of maximizing value for money in health care investments.
"[During the implementation of the pilot], we are driven to improve not only the financing but most importantly, the quality of our Maternal and Child Health services. Our goal in Serang District is to reduce maternal and infant mortality rates through improved quality of care supported by improved financing. Rates of maternal and child mortality are dropping, due to contributions from many parties, including support from SHP MNH. We hope that our achievement will inspire others and serve as a positive example for others to learn from and share."—Djatining Estu Astuti, Head of Public Health Department in Serang District, March 9, 2023
Acknowledgements: The authors of this blog would like to acknowledge the support of our partners at the Government of Indonesia, who made the pilot possible, mainly representative of the Ministry of Health, BPJSk, Province Health Office in Banten, BPJSk branch staff and District Health Offices in Kota Serang and Kabupaten Serang. It was their hard work and dedication that enabled a successful roll-out of the initiative and its grounding in local context.
We would also like to express special gratitude to Ms. Anastansia Susanto from USAID in Indonesia and Ms. Caroline Mohan from ThinkWell for their valuable inputs to this blog. We also appreciate support from Dr. Lukas Hermawan and the World Bank in the design of the pilot.
This publication was produced by the United States Agency for International Development (USAID) Health Financing Activity under Contract No. 72049719C00002 at the request of the USAID. This document is made possible by the generous support of the American people through the USAID. Its contents are the sole responsibility of ThinkWell, LLC and its partners and do not necessarily reflect the views of USAID or the United States Government.