A teacher's one-stop shop for localized literacy tools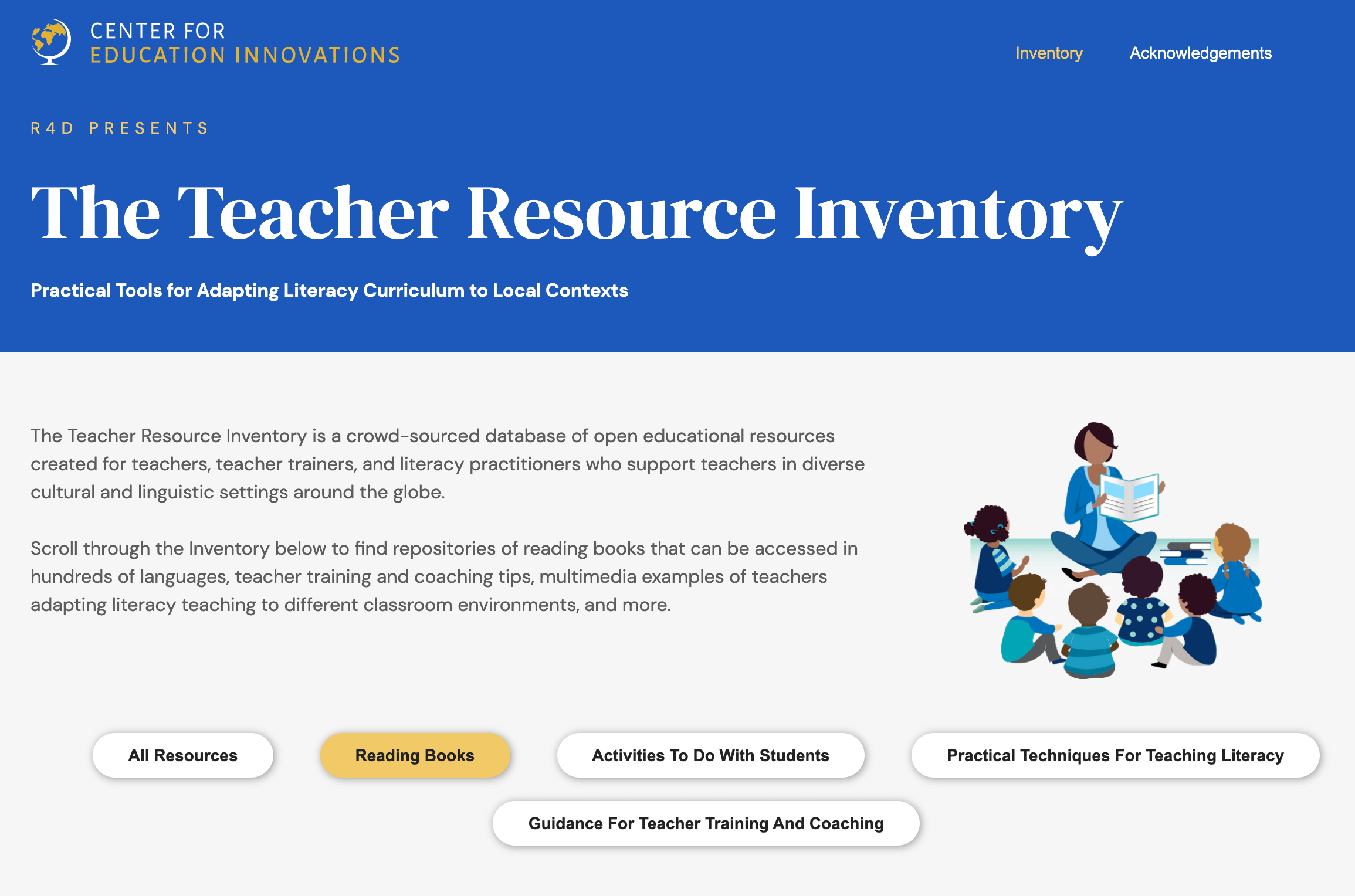 [Editor's note: Two years ago, our team at R4D's Center for Education Innovations (CEI) began working with Pearson's Project Literacy campaign to tap into the knowledge and experiences of literacy practitioners around the world. This blog is part of a series to launch tools and resources that were collaboratively developed with more than 100 literacy practitioners from over 20 countries to help literacy programs overcome shared challenges.]
Today, CEI is launching the Teacher Resource Inventory — a database of practical tools and guidance for adapting literacy curriculum to diverse cultural and classroom contexts around the world. The Inventory was created by a community of practice supported by CEI and Pearson's Project Literacy campaign.
Sonaly Patel, a program officer at R4D, chatted with three of the 22 literacy practitioners who co-created the Inventory, including: Reshma Patel, executive director of Impact Network, Kofi Essien, executive director of Open Learning Exchange (OLE) Ghana, and Adefunke Ekine, deputy director of research and external relations at Tai Solarin University of Education in Nigeria. Read on to learn more about the Teacher Resource Inventory, the resources you can find within it, and how the tool can be used to better support teachers and teacher trainers in COVID times and beyond.
Sonaly: Why did you and others create the Teacher Resource Inventory?
Reshma: Through our initial discussions in the community of practice, we realized that all of us [literacy practitioners working with teachers] were encountering a similar challenge. We were all doing independent research to find tools to help address the challenges that teachers and teacher trainers face when they're trying to improve literacy across the globe.
Kofi: We also realized a lot of the teachers don't know that resources exist that they could use in their classrooms to help improve literacy. For those who have access to resources, many of the resources are not local, so applying them to their environment and trying to contextualize them is a problem. We wanted to put together a resource package that could help literacy teachers and teacher trainers gain access to what they need and make it applicable to their context.
Sonaly: Can you tell us more about the Inventory? What is it and what can one expect to find inside?
Kofi: The Teacher Resource Inventory is a collection of trusted resources — in various formats, shapes, and languages. I think of the Inventory like a supermarket, where you get virtually everything that you want from plastics to aluminum, to wood or whatever. Any literacy practitioner — anywhere — is very likely to find something useful to use in the classroom or to use as part of his or her teacher training.
Reshma: In contrast to many of the resources out there that focus on the North American context, a large majority of the resources in the Teacher Resource Inventory are global — based in India, African countries, or other countries that have vastly different contexts.
Kofi: Also, the additional information provided on each resource is quite unique. For someone like me — always grappling with Internet connectivity issues — when I use the Teacher Resource Inventory, I don't have to waste time; I can look at the descriptions and quickly determine whether the resource can or can't work for me.
Reshma: For each resource, the Inventory includes positive experiences and challenges that people have had while using it. I think for a lot of the tools that are out there, it sort of feels like you're being marketed to, like you only hear the great things about it. So, we tried to make the Inventory a place where you could share honest feedback that gives you a good overall sense of what you can expect from each resource and how you might be able to use it.
Kofi: I think the bit on positive experiences, especially, and challenges, are very useful for determining whether and how I can use the resource in my local setting. What are the things that I don't need to do because others have done and they didn't work, and what are the things that I can also do because they worked?
Adefunke: What makes this tool unique is a lot of stakeholders were involved in developing it — NGOs, classroom teachers, teacher trainers and others. There were so many discussions and contributions that went into producing the Inventory, including conversations about different challenges in different contexts.
Sonaly: In COVID times, many teachers and literacy practitioners are working virtually. How can the Inventory support them?
Reshma: In these unprecedented times (when parents and teachers are partnering more than ever to educate the world's children), resource inventories and searchable inventories have become increasingly critical. The Teacher Resource Inventory organizes a library of potential resources by their uses, and allows users to quickly assess whether these resources would fit what they need. For example, virtual teaching environments and parents supporting children at home might search by activities to do and find anything from PBS Kids to E-Paath. And because it showcases the language and region of focus, it is particularly useful for global educators.
Kofi: Many teachers need practical tools and guidance to plan and execute fun-filled relevant lessons. Ordinarily these would have come in face-to-face workshops. With COVID and the need for social distancing the Teacher Resource Inventory provides teachers with ready to use resources complete with the needed guidance for adaptation to suit local context without exposing themselves to the virus by attending in-person workshops. Teachers can also use some of the resources for storybook creation to provide children with opportunities to continue reading — and even develop their own stories centered around the pandemic.
Sonaly: Are there any resources in the Inventory that you've used and would recommend to others?
Kofi: A resource I am very familiar with is the African Storybook. We used it in a project in northern Ghana. The languages spoken in the two communities are not languages that we teach in the Ghanaian curriculum, but we were able to use this resource and the templates that they provide to translate quite a number of their stories into the local languages. Story Weaver can be used similarly.
Adefunke: I am impressed with the Bambanani series because of the video and the classroom settings that depict a typical classroom. In fact, I have sent it to the school where we pilot tested the Teacher Resource Inventory. The videos are awesome and very real for both teachers and students to follow.
Sonaly: These resources and others in the Inventory were contributed by many literacy practitioners. Can you tell us how others can contribute? 
Reshma: The Teacher Resource Inventory is a working collection. It's not supposed to be a static-in-time resource. It's still open and you can add to it or submit additional information to a resource that reflects your experience with it. Our hope is that people continue to add other resources that they have tried and tested in other challenging settings.
Kofi: Yes, we need to grow it together. We've started, but there's room for a lot more, and I'm hoping that people who come across this will see the potential, will see what this can do, so that if they also come across a resource that they use, and they think it's good, they will submit it to be added to the Inventory.
Sonaly: Many thanks Reshma, Kofi, and Adefunke for sharing. I hope the Teacher Resource Inventory is able to provide valuable support to many teachers and literacy practitioners around the world.
***
Teacher Resource Inventory: Practical Tools for Adapting Literacy Curriculum to Local Contexts is the fourth in a series of tools developed in close collaboration with literacy practitioners around the world.
The first three tools — the Storytelling Roadmap, Literacy Measurement: A Holistic Framework, Increasing Parent Engagement in Children's Literacy — were designed to help literacy practitioners more effectively advocate for their work, create more holistic measurement strategies for literacy programs, and understand parental realities to design better parent engagement programs. Additional tools launching over the coming months will be housed here.
Catch up on the series:
"A teacher's one-stop shop for localized literacy tools"